You don't have to be a professional artist to do great nail art designs. Most designs I do in the salon are simple and can be completed in less than two minutes.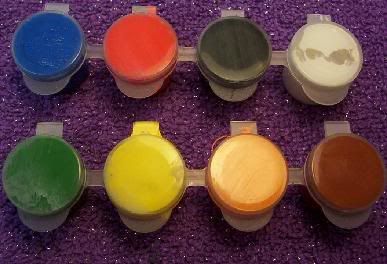 ACRYLIC PAINTS
I just use the cheap paints. I purchase the empty pots in the craft section and fill them with paint. When they get gunky, just throw them away and fill new pots. You can do most nail art with these 8 colors. You can very easily mix other colors.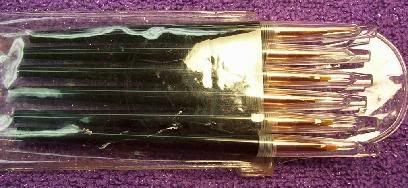 BRUSHES
I use very few brushes. I love this set of nail art brushes that I got. I use the first one the most. These can be purchased from Atwood Industries.
SUNFLOWER
STEP 1 Scribble in brown for the centers of the sunflowers
STEP 2 While brown is still wet, scribble in some orange on one side of each center
STEP 3 With yellow, add petals around the centers
STEP 4 With orange, apply small dots around where the center and petals meet
STEP 5 With green add leaves, with white add shine to the center and veins to leaves
ROSE
STEP 1 Scribble in pink for the background of the roses
STEP 2 Add dark pink dots to the centers of the roses
STEP 3 Add dark pink swooshes around the dots
STEP 4 Add leaves with green
STEP 5 Thin white paint and add veins
LILAC
STEP 1 Dot in lilacs with dark purple
STEP 2 Add lavender dots to one side of the lilacs
STEP 3 Add white dots to top of the lavender dots
STEP 4 Add leaves with green
STEP 5 Thin white paint and add veins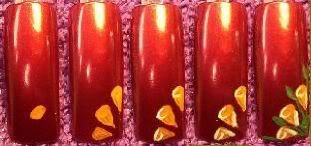 CONE FLOWER
STEP 1 With orange, make an oval
STEP 2 With orange, pull down a "v" to form flower, make three
STEP 3 With white, add a "c" to top of each flower
STEP 4 With white add a line down the one side of each flower
STEP 5 With green, add leaves, with white add veins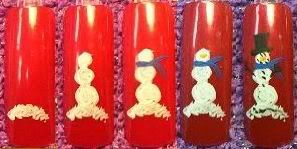 SNOWMAN
STEP 1 Scribble in white for the snow bank
STEP 2 With white, add three circles to form the snowman
STEP 3 With blue, add scarf
STEP 4 With orange add nose
STEP 5 With black add hat, twig arms, face, buttons an detail to the snow bank
HEART DESIGN
STEP 1 With white, add three white swooshes
STEP 2 Using your stylus or paint brush end, add two circles of pink
STEP 3 While pink is still wet, pull down the paint in the center of the two circles
STEP 4 Complete three hearts
STEP 5 Thin white paint and add shine to the center of the heats and dot details
SHAMROCK
STEP 1 With green and your stylus or end of paint brush, make two circles
STEP 2 While paint is still wet, pull down the center to form a heart
STEP 3 Add another heart to the left
STEP 4 Add another heart to the right
STEP 5 Connect hearts and add stem, with black add veins
PATRIOTIC
STEP 1 Start with a shimmer on nails
STEP 2 With red, paint a triangle on the right
STEP 3 With blue paint a triangle on the left, overlapping the red
STEP 4 With white add stripes
STEP 5 With white add dots